For parents who wish to enter the Kinder garden
Please see the following "Information for explanatory sessions", "Recruitment guidelines", "Nursing care and others" and "Subsidy system" for parents who wish to enter the school.As we have listed the precautions for admission and the time and attendance method to be taken, please be sure to confirm.Also, please feel free to contact us via phone or contact form if you have any questions.
About garden visit
Those who wish to visit the garden before admission are increasing. We have decided to start a garden tour for those who wish to enter the park next year from January, which has been implemented since June in general. I will inform you here.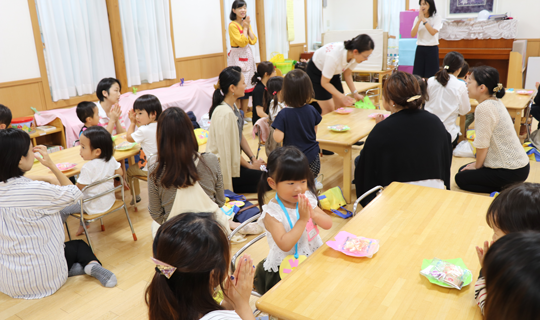 Reservation acceptance start date
From January 9, 2019 (Wednesday)
Reservation method
Please make a reservation by phone.
Mizuho Kindergarten TEL: 03-3922-1208
Reservation acceptance time
Weekdays (9:00 to 17:00)
Sat (9:00 to 12:00)
※ Saturday reception is only 2/16.
Visit day
January 11th (Fri), 22nd (Tue), 24th (Thursday),
25th (Fri)
February 6 (Wed), 12 (Tue), 13 (Wed), 15 (Fri),
22nd (Fri), 26th (Tue)
Visit time zone
9:30-9: 45 Receptionist-9: 45-10:30 Visit, explanation about childcare, question and answer